The programmers have been really busy the last couple of weeks, and we have some very cool new features to share with you!
Quicklinks to Graphing Templates
Let's say you are navigating around on the map view page, and you click on site.  Now when the context box opens, if there are saved graphing templates that go with that site you can now select them directly from a new dropdown box!  This allows you to quickly navigate to a pre-saved graph using the map view.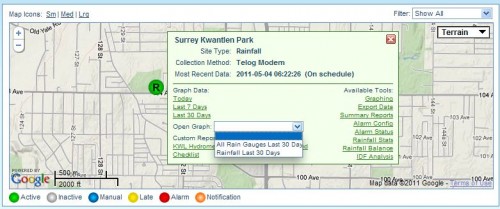 Global Graphing Templates
So you have just made a nice new graphing template, and you want to share it with other users that are allowed to see the site(s) that the template shows.  Now, when you save the graph template there is a checkbox that let's you do that!

If you check the "Share this graph with other authorized users?" box, anyone else that can see this site will also have access to the graph template you've created.