FlowWorks is pleased to announce the arrival of our newest rainfall analysis tool.  This one is aimed at easing the task of performing quality control checks when you have multiple rain gauges.  It can be used to validate rainfall from both historical and current events, and like all FlowWorks tools it's quick and easy to use.  Check it out…
Tipping bucket rainfall gauges are prone to various sources of failure, including plugged funnels, seized bearings, sudden changes in instrument level, and even well-meaning staff who perform maintenance inspections without reporting when these were done.  The result sometimes sticks out like a sore thumb, say months of missing data or sudden, inexplicably high "events".  But often, these problems are not clearly visible and can be missed.  This is where our Rainfall Mass Balance (RMB) tool comes in.
Say you have two rain gauges in your network.  If you want to check how one of them is doing, a good way to do this is to check it against the other.  Although they probably won't show the same values for a given period, it's a good bet they will be reasonably well correlated if the gauges are close together.  You could use our rainfall statistics tool to generate a monthly summary for each gauge to check their totals, or you could graph them together in our graphing system and use the summary table to see the totals that way.  But now, there is an even better way, using the RMB tool.  The RMB tool allows you to plot the cumulative rainfall total from one gauge against another, for any given time period that you want.  Check out the simple example below, which shows the relationship between two rainfall gauges for the past 30 days: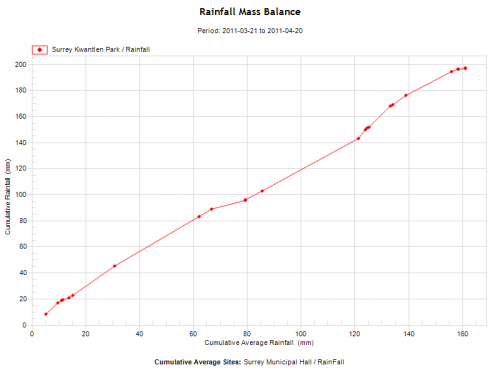 As you can see, there is a pretty nice relationship between the two sites, indicating that both gauges were likely working well during this time.  Now let's look at an example where one of the gauges was not working during part of the period: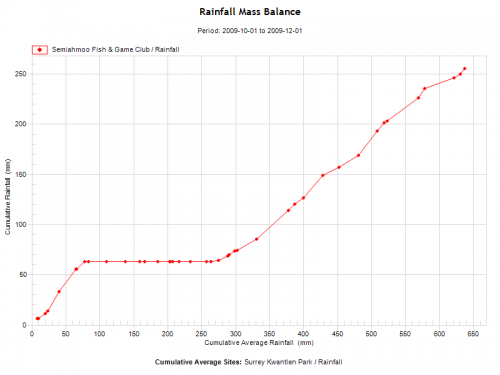 In that example, you can see that for a period while rain was continuing to be registered at the Surrey Kwantlen Park site, no new rain was being recorded at the Semiahmoo F&G rainfall station.  The effect is even more pronounced if you choose to look at several rainfall gauges at once: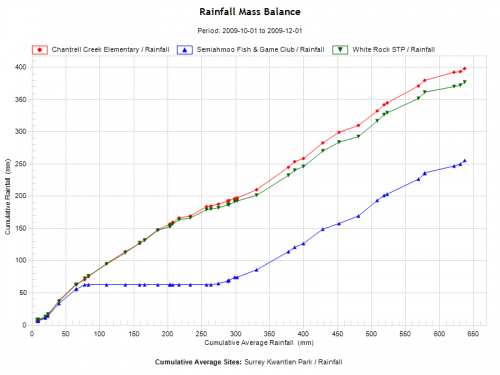 In the above example, two other gauges continue to record nicely during the time that the Semiahmoo F&G gauge is not operating, showing even more clearly where the problem lies.
Finally, you can choose to select the average of a group of gauges for use in X-axis of your graph.  This lets you filter out the effects of any one station.  Let's take a look at this example: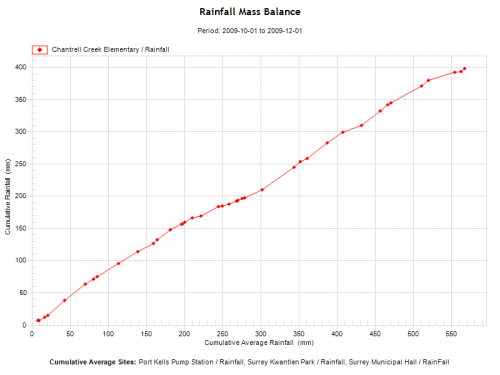 You can see in the above example that we have chosen to combine the average of 3 separate rainfall gauges to use as the X-axis in our graph.  This is great when you want to work with the average value over a larger area, rather than relying on a single gauge for comparisons.
When you are done, you can choose to print or export these graphs, and you can even save them as templates for future use!