The power of FlowWorks is the ability to view, manage, and analyze your infrastructure as if it is one homogeneous network, no matter the various hardware manufacturers within your network.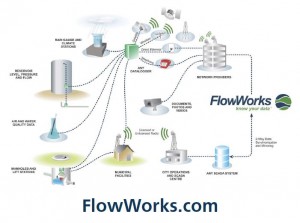 One of the most common problems is making sense out of the self-identification capabilities of each logger that is in the field. Some devices are strictly "here's my serial number, live with it" and others are fully programmable and permit your data to arrive with a label that would make sense.
FlowWorks permits you to push this problem into the background and forces us to remind new users of this process when they first start setting up sites.
The site identification that accompanies your data on its way to FlowWorks, is referred to as the "internal site name." Any data arriving without a recognized "internal site name" is ignored.
The site name that is displayed in FlowWorks (on the map  view, on the graphs, on reports, etc.) is the "display site name" that you have assigned to that particular site.
The internal site name and the display site name can be the same if your logger supports such programming, but more often than not, they are totally different. It is that internal site name that is referenced as data arrives in FlowWorks. When the data arrives with a name that doesn't match any of the internal site names, the data is not accepted.
Once the packet of data is matched up to an expected internal site name, we can drop that name and from that point on, you see the data tagged with the display site name (the one customization option) to simplify your infrastructure.
Remember when you complete a FlowWorks Site Setup Form, it is that internal site name that allows your data in to FlowWorks. If it doesn't match that coming from the logger, it is not accepted.